Update :
Clothing has arrived, They look AWESOME.
---
I have placed my order with the Manufacturer.
We have T-Shirts in White Or Black in the following sizes:
M L XL 2XL
$18ea (+$2 for 2xl/3xl)
And Hoodies in Black or Grey :
L XL 2XL 4XL
@ $35 ea (+$2 2xl/3XL +$4 4XL)
I can get other sizes , or youth sizes if requested.
Message me with your order.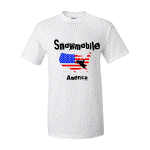 Black is same , but text is white.
Rear has :
http://www.snowmobileamerica.com
Forums
Reviews
Classifieds
Trail Conditions
Technical Assistance